Continued from page 1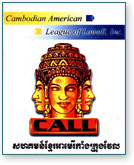 The largest settlement is in Long Beach, California, which has a growing commercial district along Anaheim Boulevard known as Little Phnom Penh. Surviving in this low-income, multiracial area has been challenging, and both class and interracial relations can be tense, especially among Cambodian, black, and Latino youth.
Another vibrant Cambodian community has developed outside of Boston in Lowell, Massachusetts, with approximately 20,000 Cambodians and two commercial business areas. These Cambodians are integrating themselves into the civic life of this small, working-class town, even gaining political power with the election of one of their own at the city council level.