Music and Dance
Southeast Asian Americans have formed traditional dance, singing, and musical instrument troupes that are associated with schools, universities, youth centers, religious groups, community centers, and cultural organizations in their communities. Preserving these cultural traditions is crucial, in part because so many artists were persecuted and killed during the political turmoil in their homelands; for example, it is estimated that 90% of Cambodian artists, dancers, and musicians lost their lives. While some Southeast Asian Americans have tried to recreate their cultural practices with authenticity, others have infused them with contemporary touches and adjusted them to the U.S. context.
In addition to traditional artists, popular culture singers, musicians, composers, and songwriters also have been able to re-establish their careers in the United States. Some new entertainers have found popularity singing in their ethnic language and travel the country performing in ethnic venues. They have loyal fans that flock to their concerts, listen to them on ethnic radio stations, and buy their CDs and videos. These U.S.-based entertainers are facing competition as more music CDs and videos from their homelands are being imported or are available through the Internet. The younger generations, influenced by peers from diverse racial backgrounds, are involved with hip-hop culture, using spoken word and rap, to express themselves in both ethnic languages and English.

Visual Arts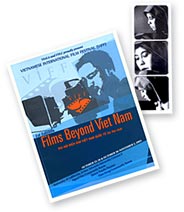 Established and new visual artists working in various genres are also a crucial part of the cultural community. Some practice traditional art forms, while others are more experimental in their artistic expression. Some depict images of the pre-war past, capturing for many the nostalgia of their homelands, while others focuses on the impact of the trauma of war and forced migration. Some painters, photographers, and other artists have displayed and sold their work in ethnic galleries, while others have found recognition in mainstream artist communities. Performance theatre troupes have been popular, especially among members of the younger college-aged generation who have explored topics regarding the generation gap, racial discrimination, identity formation, and relationships.
Film
A small but growing community of Southeast Asian American filmmakers is making movies from their own perspectives on homeland issues and on their experiences in the United States. Filmmakers are producing or participating in documentaries about their experiences, which are used for educational purposes. These filmmakers also participate in Asian American and international film festivals, finding niche markets to show their films. A few are gaining national acclaim for their work.
| | | | |
| --- | --- | --- | --- |
| Continued on page 2 | << Back | [1] 2 | Next >> |